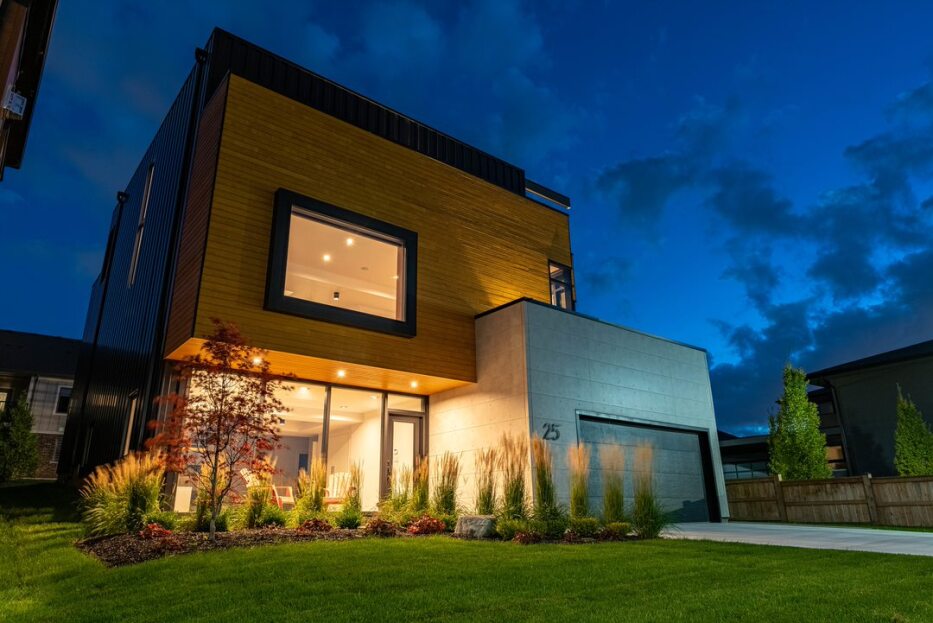 Check Out Our Portfolio for Exterior Design Inspiration!
After months of shovelling snow and salting your driveway, the weather is finally warm enough to focus on one of the most eye-catching aspects of your custom home: the exterior. Whether you enjoy spending time on your yard or working on your home's exterior, there are a variety of ways that you can embrace the springtime temperatures while boosting your home's curb appeal!
Whether you're renovating, building a custom home, or simply want to refresh the look of your home, we've rounded up a few ways to add interest, character and killer curb appeal to your home's exterior!
Focus on Your Front Yard.
Today, we're showcasing our Kenmir Avenue project to demonstrate some ways that you can refresh your home's exterior. Although this home's style is contemporary, its classic elements, like lighting, landscaping and colour, come together to create an eye-catching design that is truly unique.
1. Update Your Lighting!
Illuminating the front of your home is an excellent way to add curb appeal and increase usability of your front porch. In fact, while lighting certainly serves a practical purpose, it can be used as an expression of style, too. Notice how the pot lights on the Kenmir project cast a warm glow on the outdoor seating area, which draws your eye to the big, front windows. The placement of the pot lights adds a touch of softness to the exterior.
And pot lights aren't the only type of lighting you can use—consider adding lanterns along your walkway, wall sconces around your garage or a funky light fixture above your door to highlight your home's unique features.
2. Maintain Your Landscape.
Every home looks better with a well-manicured lawn! But, in addition to keeping your lawn cut and watered, adding a garden with different species of grass, shrubs or flowers can add a pop of colour and texture to your home's aesthetic. We love the variance between the tall grasses, bushes and landscaping stones in the Kenmir project's front garden, since each individual component complements the natural wood elements on the home and adds new layers of of texture and colour.
Professional or personal landscaping is also a beautiful and functional way to add some privacy along your front porch or patio, too!
3. Add Some Contrast with Colour.
In addition to lighting and landscaping, carefully selecting contrasting colours is an excellent way to express your home's unique style and personality. Consider how a vibrant front door can make a neutral brick exterior look trendy, or how installing wood siding, like on the Kenmir home, provides warmth and texture! If you're in the process of building a custom home or in the midst of renovating, it's important to consider not only your materials, but also their colours, to create an exterior that stands out. Stone and brick can be used in conjunction with wood or siding to mimic a charming country cottage or a modern masterpiece.
Great Designs Start with Impero!
Whether you're building a custom home, adding on, or looking for ways to update your commercial space, focusing on quality exterior materials, like lighting, siding and landscaping can help you update your current space or elevate your new project. Check out our Portfolio to get inspired, or contact Impero's team of experienced contractors and builders today to develop a custom project that matches your unique vision from the inside-out!