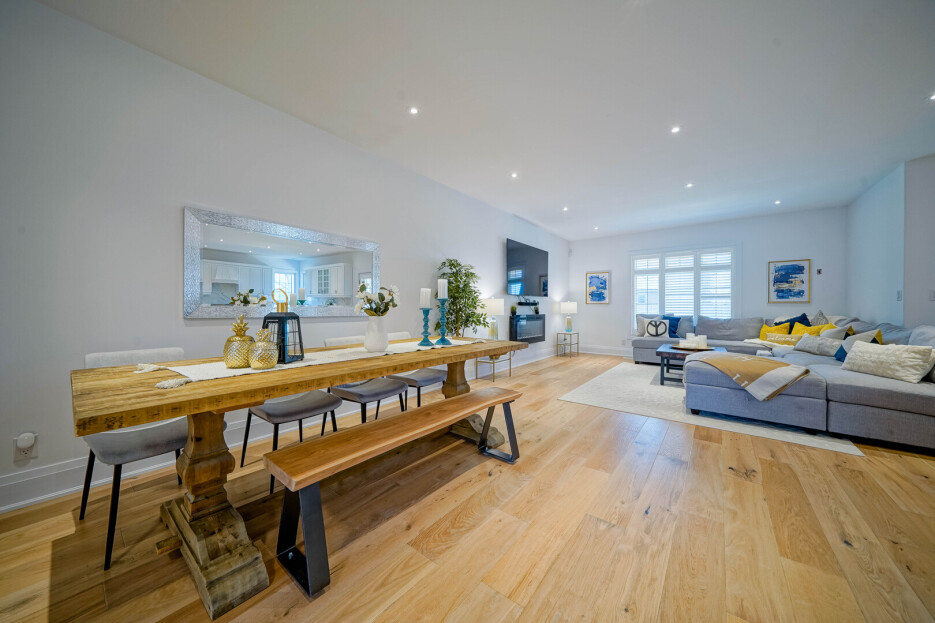 Open Concept Living: Is it for You?
Regardless of whether you love or hate the idea of open concept living, its popularity over the years has proven that this trend is here to stay! And while its lack of dividing walls or doors might feel unsettling to some, the casual closeness of a singular open concept space is beloved by large families and entertainers alike for its functional style.
If you're building a custom home or renovating your current space, opening up walls can prove to be both practical and beautiful. But how do you know if open concept is the right concept for your newly built home? Well, we want to help you find out! This month, we're taking a close look at open concept living spaces, including which rooms work best for open concept designs, to help you determine if it suits your lifestyle.
Where Did Open Concept Designs Come From?
Understanding how an open concept living space affects the flow of your home can help you maximize the benefits of your investment. But first, we're delving into the history of the open concept home to help you gain a better understanding of how they came to be. According to an article published on My Move, open-concept floor plans were created during the 1950s and 1960s. Because its design omitted dividing walls, open concept homes allowed builders to fit a living, kitchen and dining room into a compact space, which enabled builders to maximize square footage without compromising functionality.
And, while this design was intended to be economical solution for small spaces, homeowners have learned to appreciate the bright, airy atmosphere that comes with it.
Here are just a few of the most endearing features of the open concept home:
Natural Light: If open concept spaces seem like they have more natural light, it's because they do! The lack of walls brightens up interior rooms that would traditionally receive little to no natural light because of lack or inefficient lighting. This leaves the whole space feeling brighter and bigger!
Functional Space: A well-executed design, like this one from our Portfolio, will produce a space that is multi-functional. Rather than limiting one room to a dining or living space, the open-concept plan allows homeowners to do a bit of both, which can make a home feel larger even when it technically has fewer rooms.
Entertainment Mecca: Do you love to entertain? An open-concept home will let you have it all! You can cook dinner and still socialize with your guests, enjoy a game and some drinks, or even watch the kids while you prep or clean. And, because of the lack of walls, you can reconfigure your space to suit your lifestyle
However, some individuals may find that open concept spaces can cause additional problems:
Reduced Privacy: If you work from home or enjoy your solitude, you may find that an open-concept space feels too, well, open for you. It can be difficult to read quietly or catch up on some work when dinner is being prepared or if your children are playing in the living room.
You Can't Hide Clutter: With no walls to hide behind, that messy kitchen can make your whole main floor feel unkempt, even when everything else is clean.
Heating and Cooling Costs: While open concept might be an efficient alternative to space, some homeowners and builders are reluctant to say the same for open-concept heating and cooling costs. Because of its lack of walls, open concept homes may not be as efficient as their modular counterparts.
Which Spaces Work Best for Open Concept Designs?
So, which space is most conducive to the open concept design? Well, truth is, there is no limit to the ways in which you can design, and redesign, your open concept living space! If you're considering implementing an open-concept design, or are eager to design your own custom home, contact Impero to discover how inspiration and expertise can transform the way you live!
Friday September 17, 2021